Garrett Ace APEX with 6x11 Viper™ metal detector details:
Simplicity... With Full Control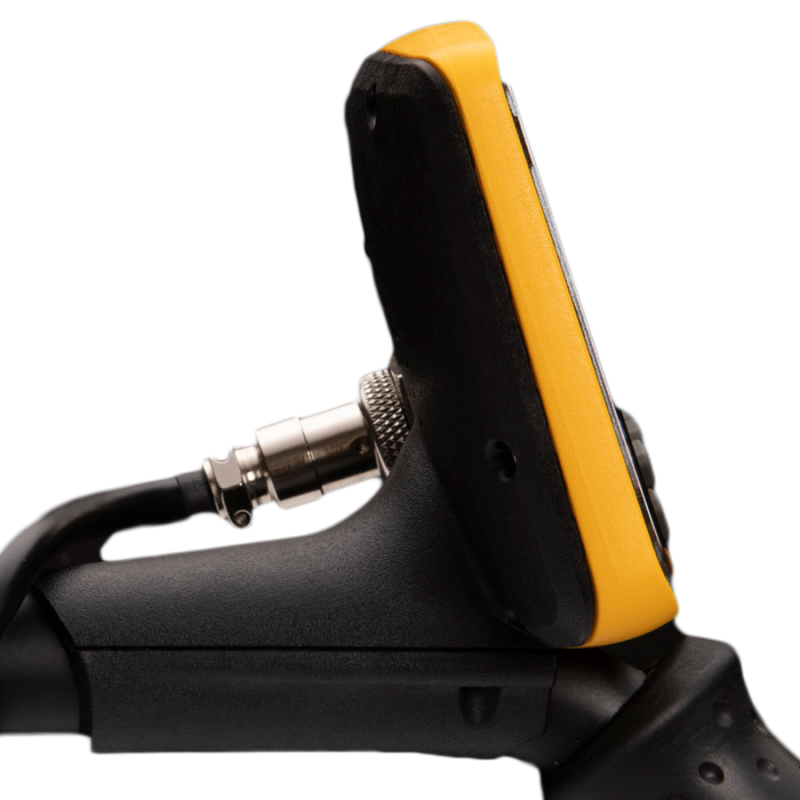 INTUITIVE AND EFFICIENT CONTROLS
Direct drive buttons for most frequently used controls. Easy-access menu adjustments for other controls.
SIX DETECTION MODES + PINPOINT
Zero, Coins, US Coins (with coin icons), Jewelry, Relics, and Custom
HI-RESOLUTION GROUND BALANCE
175 points of ground balance resolution (like the Garrett AT Max), ranging from ferrous ground to saltwater.
LARGE TARGET ID NUMBERS RECHARGEABLE BATTERY
Built-in rechargeable lithium-ion battery provides up to approximately 15 hours of use, depending on the setting. Mini-USB charging cable included.
IRON AUDIO
Garrett's unique feature helps to correctly identify complex iron objects, such as bottle caps.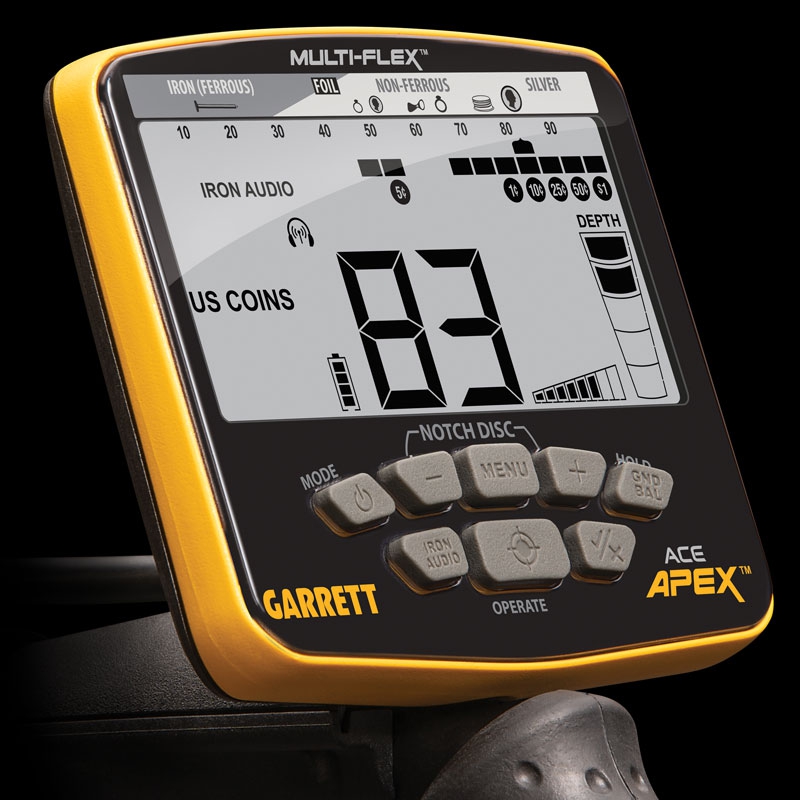 5-TONE AUDIBLE TARGET ID
Five distinct tones provide greater audible target identification than on Garrett detectors.
HYBRID AUDIO SYSTEM
The Apex target audio provides the simplicity of binary audio (found on existing ACE detectors) with the additional benefits of subtle proportional audio for faint targets.
HI-RESOLUTION DISCRIMINATION
Twenty pixels of Notch Discrimination, including 8 pixels of Iron.
BACKLIT LCD VOLUME CONTROL
For both the built-in speaker and headphones.
EIGHT SENSITIVITY/DEPTH ADJUSTMENTS
1/8" JACK for optional wired headphones
BUILT-IN Z-LYNK WIRELESS TECHNOLOGY
Up to 6 times faster than Bluetooth. Hunt without the cords!
Light weight. Broad coverage. Excellent target separation.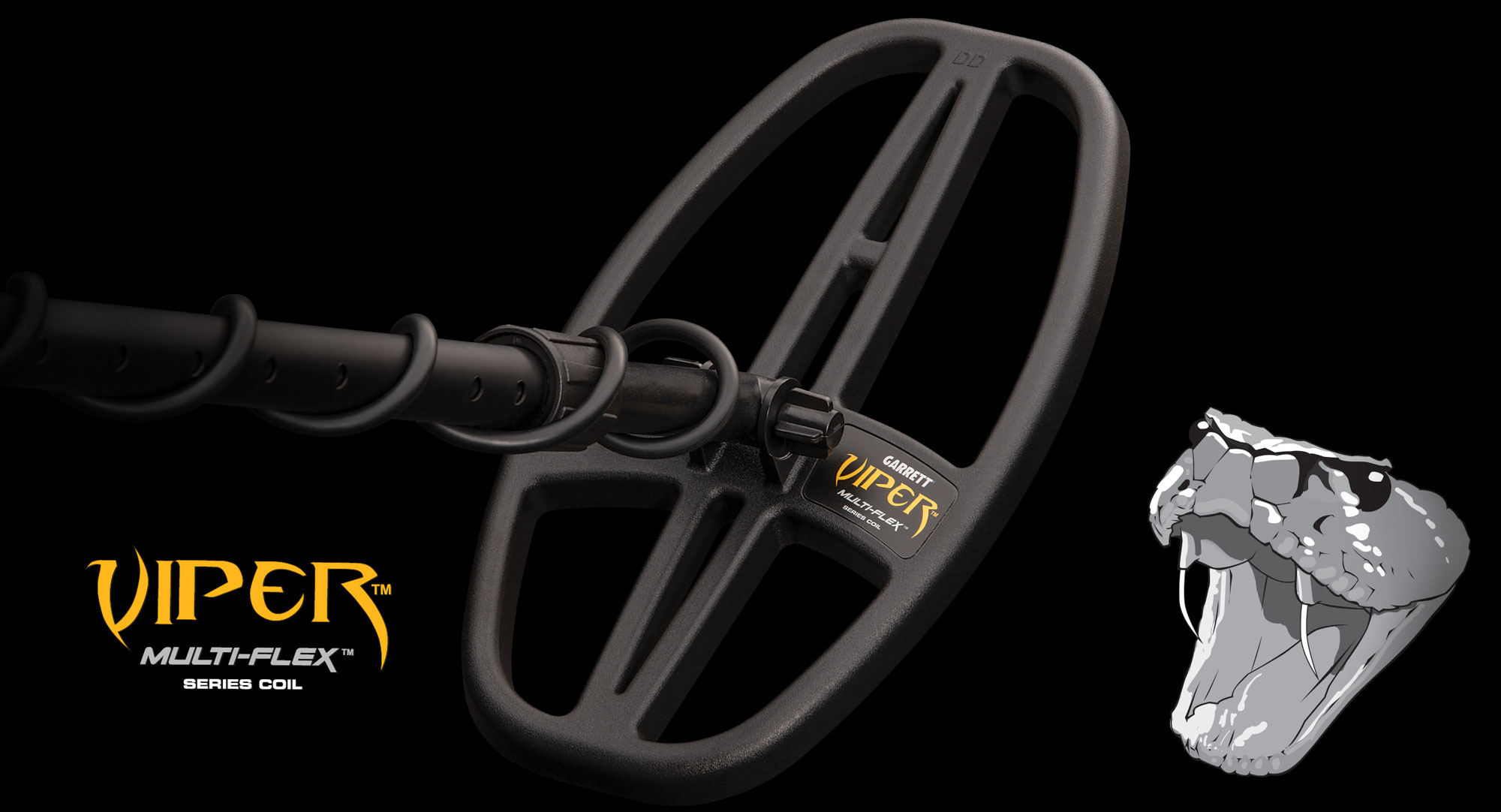 NEW

6" x 11" DD Viper Searchcoil
Fully waterproof, the Viper is a blend of two of Garrett's most popular DD coils.
The 11" size is large enough to cover ploughed fields, but it's narrow 6" footprint allows easy separation of targets in iron infested areas.
The Viper is designed as a low-impedance, broad-bandwidth coil to support the new Apex Multi-Flex frequency technology.
Note: As a result of the Multi-Flex coil technology, the Apex Viper coil is not compatible with older ACE detectors. Prior ACE coils are not compatible with an Apex detector.
CLICK ABOVE FOR VIPER SEARCHCOIL VIDEO
Additional Information •• Garrett Ace APEX with 6x11 Viper™ metal detector
| | |
| --- | --- |
| Product Code | GAPEX |
| mpn | 1142320 |
| Manufacturer | Garrett |
| Minimum assembled length | 43" to 56" (1.09m - 1.4m) |
| Approximate weight | 1.13 kg |
| Operating Frequency | 5, 10, 15 and 20 kHz |
| Battery Type | Rechargeable Lithium Ion Battery, built-in |
| Standard Coil Type | 6" x 11" DD Viper™ |
| Warranty | 2 Years |
Customer Reviews
Sunny
202/07/2020 21/07/202002:11
Customer Service:

Product Quality:

Value for money:
So silly all the wait
Why all the wait for this new metal detector if they don't start putting some ore for sale the winter will be in so silly as I'm looking one and lots others are as well very bad set up
What kind of abuse are you reporting?